Letyaikina T.A. - the Project Coordinator, and Anna Kalizhanova - the facilitator of the Project IRN AP09260118 "Facilitators to Enhance Educators' Qualifications in Blended Learning: Efficiency Evaluation, Methodology, Vectors for Competencies Development" presented the process and the research outcomes at various international events.
On April 29, 2021 the project was presented at the online conference arranged by the British Council in Nur-sultan and Regional English Language Office (RELO), U.S. Embassy in Nur-Sultan as a launch event of the Online Teachers' Community "Increasing Online Engagement of English Language Learners - Online Teachers Community launch event"
On August 15, 2021 the project was presented at the online conference "Accessing Education around the World", arranged by Regional English Language Office Programs, US Embassy in Nur-Sultan.
https://statedept.zoomgov.com/rec/play/VyxtA6liORX46y-M3OJxGxC8vQ8XTxEZ3o-qJdPXJ8jq4q08YE03V3PShlfulK56b4AHFjSmaKvX67ib.ixbCMvrWr56wQJL7?continueMode=true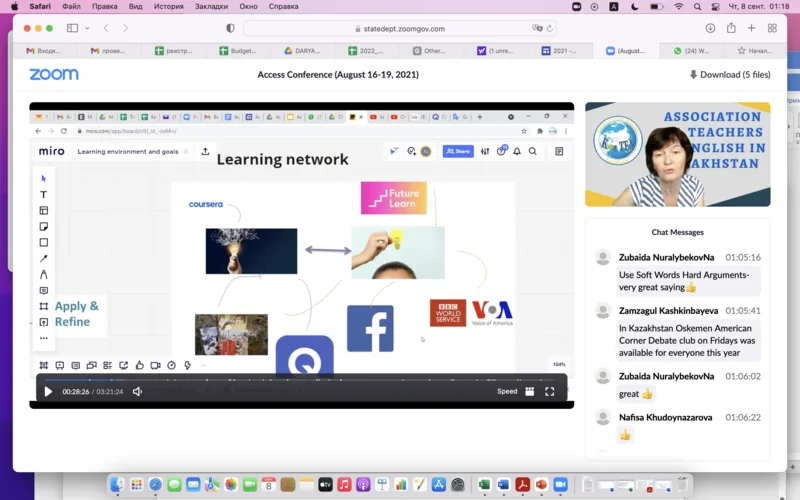 On March 22-25 Tatyana Letyaikina and Anna Kalizhanova gave a speech on "Less Massive but More Efficient Online EFL Teachers' Learning" within the project outcomes at the international online conference TESOL 2022. Methodical approach, strategies that promote participation and learning effectiveness up to 80% were discussed.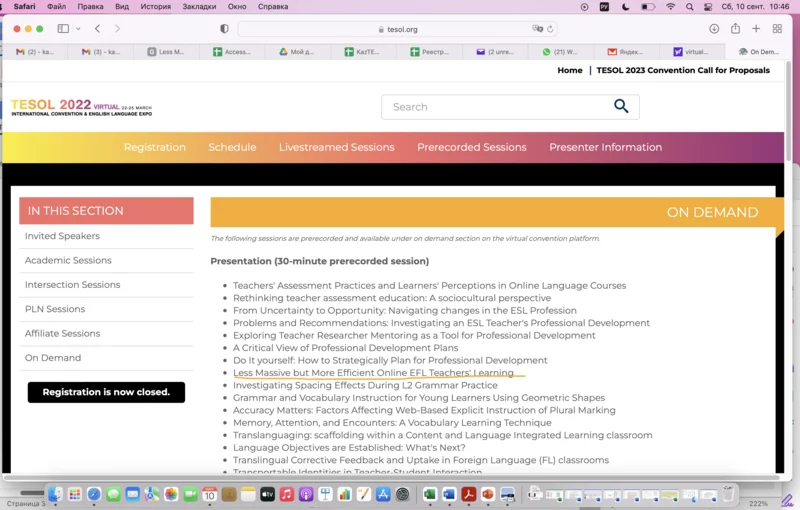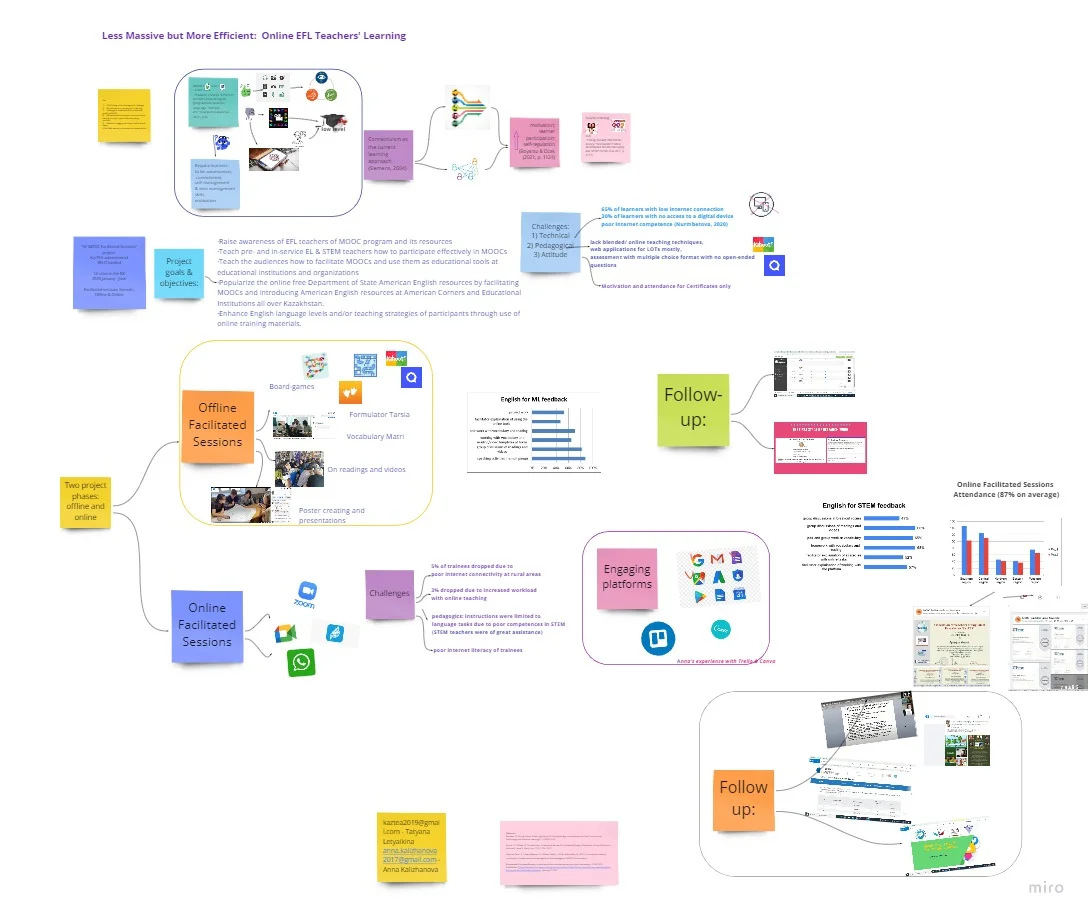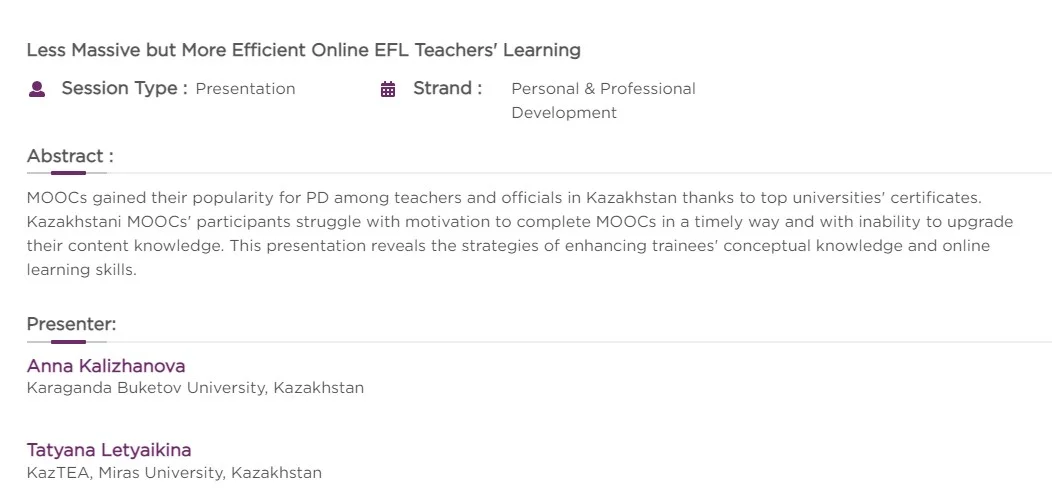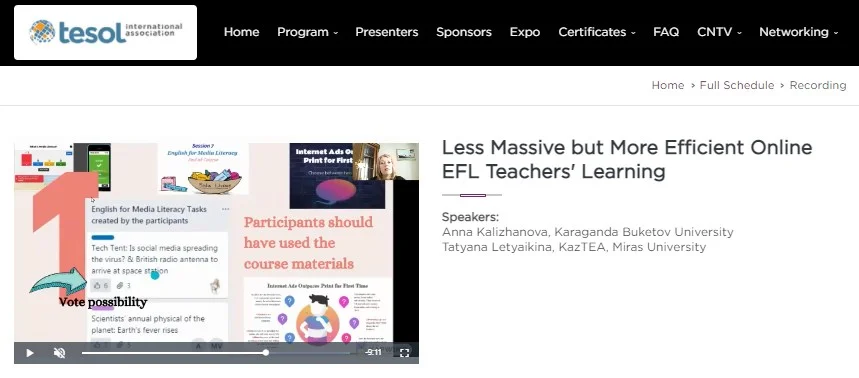 On June 14, 2022 these strategies were considered in detail in terms of the context gap between Kazakhstan and Central Asia within the international regional conference TESOL in Tashkent. Apart from interactive techniques, such as "think-pair-share", "mingle activity" and team work, there was a discussion about different techniques of arranging criteria assessment of discussion results and messages in the formats of mini-blog, video clip, presentation and active listener to increase motivation and conscious learning of the project participants. Additionally, the challenges such as the use of web applications under poor internet connectivity conditions were considered. To ensure learning efficiency, conference participants were recommended to apply Web 2.0 technologies such as Telegram, WhatsApp Chat, mobile applications: Miro-board etc in the teaching process.